My card for today uses the "tissue paper" technique. I have heard a lot about this technique so I fired up Google and watched several tutorials for doing this technique. It looked pretty easy, but you know me I can make the easiest things incredibly hard! So I dug out some left over white tissue paper and made this card.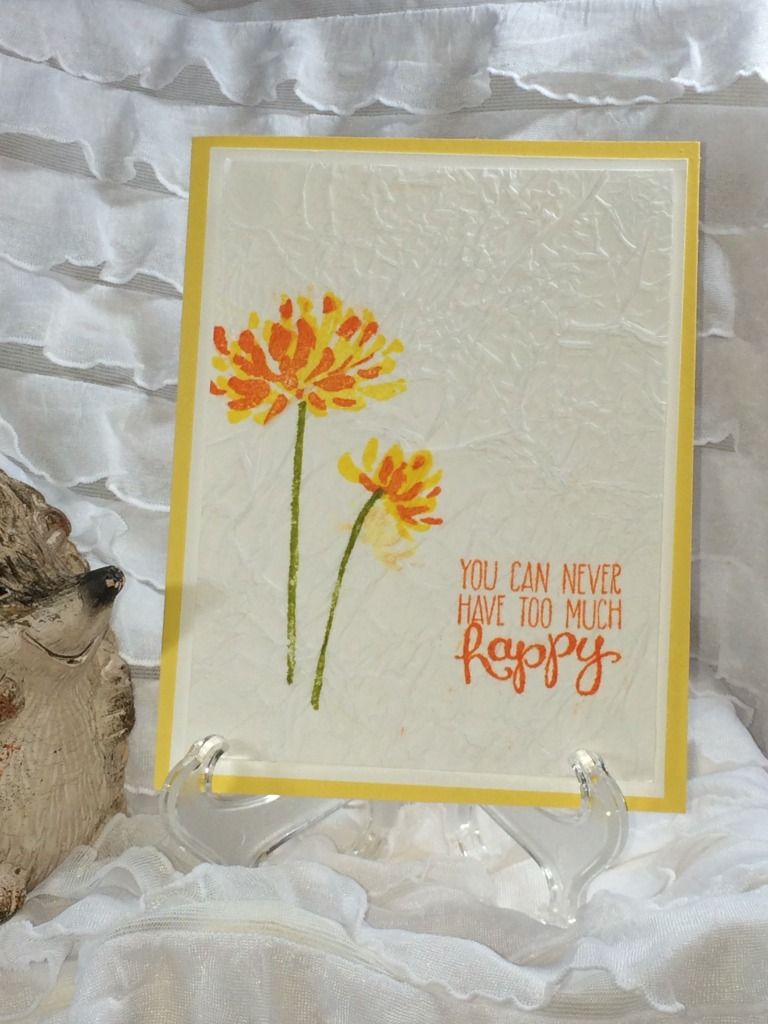 We are going to start with a piece of Daffodil Delight Cardstock that measures 5 ½" by 8 ½" and score it at 4 ¼".
Next we will cut two pieces of Whisper White Cardstock. The first one measures 5 ¼" by 4" and the second one is 5" by 3 ¾".
We are going to use the piece that measures 5" by 3 ¾" and make sure that our tissue paper is at least ½" bigger that our cardstock. Next we will stamp our image and our sentiment on the tissue paper. Note *make sure that your sentiment and image are close enough together to fit on your cardstock piece.
Now we will crumple our tissue paper. Crumple it tight! Let's set it aside while we use a gluestick and coated our cardstock completely. Then we will carefully un-crumple our tissue paper. Don't smooth it out too much or you will lose all that nice texture!
Now being careful, we will lay our tissue paper on top of our glue covered cardstock. Be sure that our sentiment is straight, this is important because if it is crooked there isn't any way to make our card look straight! Now we will pat down the tissue paper into the glue. I like the crumpled look so I try to not smooth at all, just pat so that I get a nice crumpled look.
Next we will assemble our entire card. So let's take our Daffodil Delight base and glue the 5 ¼" by 4" Whisper White piece to the base. Next we are going to use dimensionals and stick the tissue paper layer on last. Now isn't that a great looking card? Don't forget to stamp a great looking envelope to mail it in!
Along with your basic tool kit you will need these supplies.