Several people have asked me "What should be in my basic tool kit for stamping" so this is my attempt to answer that question.
If you click on it, it will take you to my list of basic tools which looks a lot like this--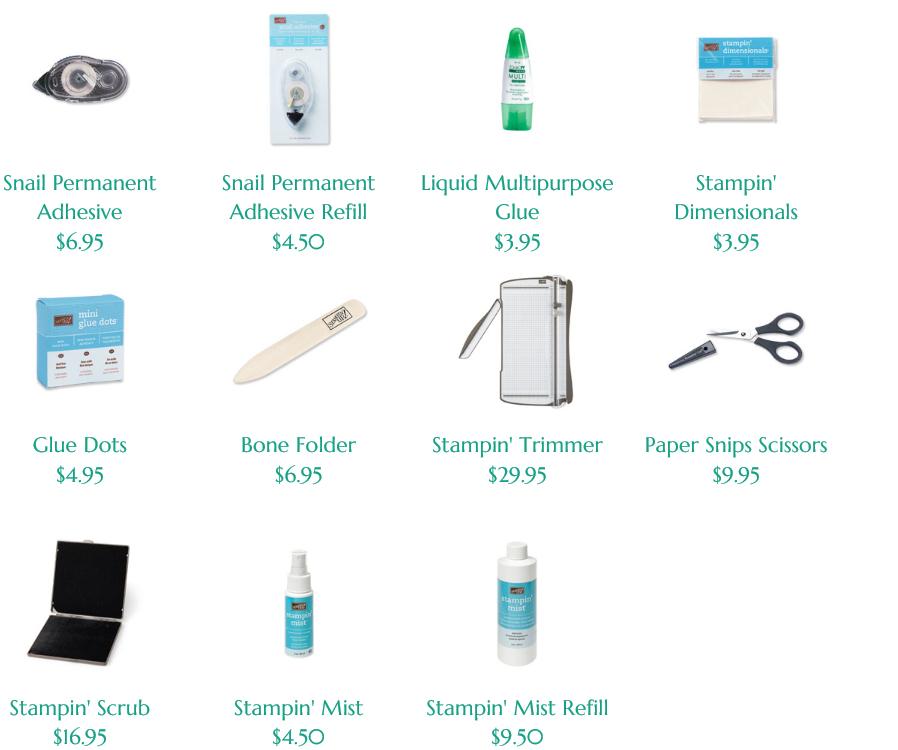 You may notice that the first items I list are several different types of adhesives (glues).

I think that you should always have at least two different types of glue on hand. I just feel the need to have them all! Dimensionals help give your cards a nice pop! And Glue dots are great for holding difficult items in place. Like buttons, bows and various other embellishment.
Next is the bone folder.

This tool helps you get nice, clean and sharp edges to your folds. This can make a big difference in the appearance of your card or project.
The next item you should have is a paper trimmer. I love this one because it has a leg that flips out, so that you can get an accurate cut on papers up to 12 inches.

The cutting plate is marked in quarter inch lines so you can get a nice straight cut. The cutting blade is replaceable and it has a door on the underside to keep all your extra blades, plus it will hold a bone folder! Almost forgot to mention that the Paper/blade guide on the top, locks into place! So no more floppy parts to break off or stab you during transport!
Now we get to my favorite scissors, the paper snips.

This little pair of scissors comes in handy for when I need to make a small cut or trim up my card. I get a lot of stuff crooked! The size is just the perfect fit.
The last 3 items are for keeping your stamps nice, clean and conditioned. I like the Stampin' Scrub because it is a nice large size so I can put several stamps on it to be cleaned.

It is also black, which appeals to me (you can't see the mess all those colors make.) It also has little markers on it so you know which side is wet and which side is dry.
The stamp cleaner with the refill is a great cleaner and a rubber conditioner which helps keep your stamps in great shape. Plus they keep the gunky stuff in control.

Just remember that it really doesn't matter how stained your stamps get, they will still work!
There are also some tools that I keep in my tool kit that Stampin' Up! doesn't carry. They are optional and not all stamper will agree on them.
a.

A ruler. I like a 12" one.
b.

A pair of tweezers.

I prefer the tweezer bee brand.

They have a nice sturdy grip and it makes it easier for me when placing small pieces.
c.

An x-acto knife, just to trim any loose ends, you can also use them to move small things into place
d.

A small work mat. I like to have two. One to cut on and one to work on. There are a variety of mats out there and you will eventually find a favorite.
You will soon discover which tools work best for you!